Our Breeding Program
The goal of our limited breeding program is to produce happy, healthy dogs that conform to the breed standard and make loving household pets. Complete and regular health checks are done on our dogs, including bloodwork, urinalysis, hips and eye certifications.
Puppies Due: April 2, 2017
Cleo has been bred with Aiden and puppies are due April 2, 2017. They will be ready to go to their new homes around May 26, 2017. This litter is now fully reserved. If you would like a Pinehome puppy, please call to discuss our 2018 litter and get your name on a waiting list.
Cleo's littermate, Keena gave birth to 9 healthy puppies on Sept. 27, 2016. Four boys and five girls. Mom and pups are all doing fine. Aiden is a proud father. See pictures of this litter on the Puppy Pics page. All pet puppies from this litter are sold. Watch for 'Liv' and 'Munro' from this litter in the show ring.
Looking for a Foster Home for one female show puppy. If you live in Sudbury, have a fenced yard, love brushing and training a puppy, please give me a call to inquire regarding terms for a Foster Home.
Sire: GCH Whindancer Aiden Pinehome x Dam: GCH Pinehome's Clever One 'Cleo'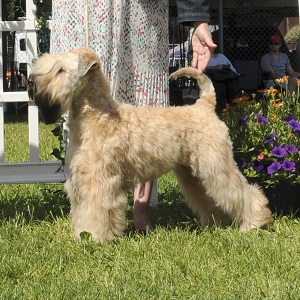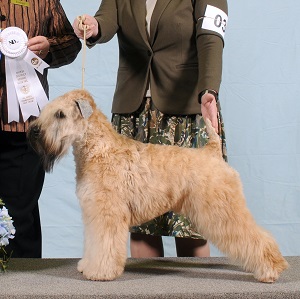 Pinehome Wheaten Terrier Puppies
All puppies are registered with the Canadian Kennel Club and sold under non-breeding contracts.
Pups which best represent the breed standard are selected from each litter and are termed 'show' puppies. If you are interested in purchasing or fostering a 'show' puppy, please contact me for more information.
Even though all pups are bred from show quality with solid Champion lines on both sides of the pedigree, most puppies will not have a show career and are sold to loving companion or 'pet' homes. See Links to the right for Terms of Sale for a 'pet' puppy. Puppies are lovingly raised and socialized in our home until 8 weeks of age.