Share with us, our love for the Soft Coated Wheaten Terrier. We have had Wheatens since 1987 and have been involved in showing, obedience and agility. We are an exclusive breeder of Soft Coated Wheaten Terrier puppies. Pinehome is dedicated to the protection and preservation of the purebred Soft-Coated Wheaten Terrier.
Pinehome Wheatens have showed very well in Canada and the United States with multiple Champions produced, proving they are quality dogs for our breedin program. See our Champions page for more information on these dogs.
Our greatest satisfaction is seeing happy active dogs out with owners who have added a Pinehome Wheaten to their families. They can be found across the country and are involved in obedience, agility, herding etc. See our Activities page to see what Wheatens enjoy.
We have a limited breeding program and puppies are sold under non-breeding contracts to approved pet homes.
To continue the Pinehome line, we have SHOW puppies for sale and also seek FOSTER show homes. Please inquire about these special opportunities. Contact: Peggy at pinehome@vianet for more information. Sudbury, ON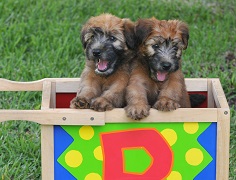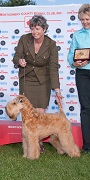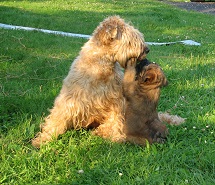 General Wheaten Qualities
An energetic medium sized dog, ideal height for males is 18.5 in. at the shoulder and 35-40 pounds. Females are about an inch shorter and five pounds lighter. The Wheaten has a soft wavy coat, that is non-shedding and hypo-allergenic. It requires regular brushing and trims.
The Wheaten is eager to learn and makes an excellent family pet. They love to be with people and are very generous with their greetings and kisses. They respond well to a positive consistent training style.
Website Note: If you do not see a sliding photo banner at the top of this page, your browser may restrict active sliding windows, press Allow Blocked Content or try another browser.